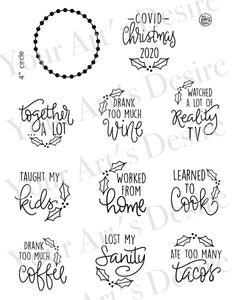 No matter how icky of year it's been commemorate it with an ornament. 

The border can be screened any color. It's fits on a 3- 4" FLAT ornament. The phrases each fit inside the border or you can use alone. "Covid Christmas" can be on the backside while you screen what phrase fits YOU and your year on the front side. 
*If using on a 4", please note that there will be extra room so customers can embellish as they'd like. If you screen on a 3", you'll have a little bit of space around the outside of the round dotted border.
**************************************************************************************
Printed on 8 1/2" x 11" screen.


Ceramic projects: For best results mix paint and silkscreen medium until it reaches a pudding-like consistency to avoid bleeding. All screens are made with a mesh count of 110.

All projects: Use on surfaces like polymer clay, ceramic, pottery or bisque. Also great for fabric surfaces such as t-shirts, tote bags, canvas and wood signs.



***Copyright*** Not for commercial use. All images, designs, and text are copyrighted and cannot be copied, altered, or resold. For personal use only in a studio or at home.

Thank you for your order!
CCSA members be sure to use your benefit code if you are ordering 6 or more screens!