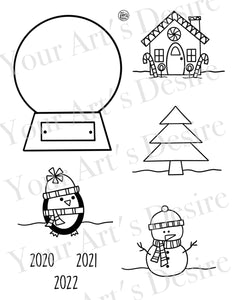 This screen has multiple uses! Use during the holidays AND winter!

1. Each design was created to fit inside the snow globe. 
2. Designs can be used without the globe - put on tiles, small plates, etc. 
3. Write the child's name, family's last name or screen the year on the "tag" that's on the base.

The dates fit inside the "tag" on the base but you can also use them on the backs of your pottery pieces. 

This screen is perfect for pottery to go and EVENTS.

Printed on 8 1/2" x 11" screen.


Ceramic projects: For best results mix paint and silkscreen medium until it reaches a pudding-like consistency to avoid bleeding. All screens are made with a mesh count of 110.

All projects: Use on surfaces like polymer clay, ceramic, pottery or bisque. Also great for fabric surfaces such as t-shirts, tote bags, canvas and wood signs.

***Copyright*** Not for commercial use. All images, designs, and text are copyrighted and cannot be copied, altered, or resold. For personal use only in a studio or at home.

Thank you for your order!

 CCSA members be sure to use your benefit code if you are ordering 6 or more screens!