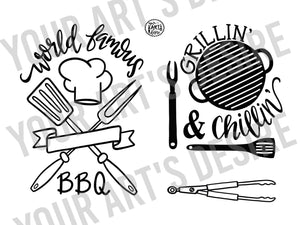 Three designs to add flare to that grill platter. 
Measurements:
World Famous BBQ: 4 1/2W x 6 1/2H
Grillin' & Chillin': 4 14W x 4 1/4H
Tongs: 4W x 1H
Printed on 8 1/2" x 11" screen.

Ceramic projects: For best results mix paint and silkscreen medium until it reaches a pudding-like consistency to avoid bleeding. All screens are made with a mesh count of 110.

All projects: Use on surfaces like polymer clay, ceramic, pottery or bisque. Also great for fabric surfaces such as t-shirts, tote bags, canvas and wood signs.

***Copyright*** Not for commercial use. All images, designs, and text are copyrighted and cannot be copied, altered, or resold. For personal use only in a studio or at home.

Thank you for your order!

CCSA Members, be sure to use your benefits code if you are ordering 6 or more silkscreens!