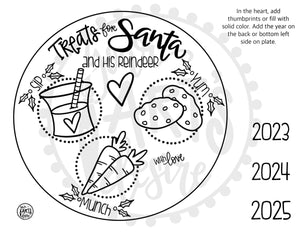 This design is right at 8" across ... however, we recommend that you put this on a bigger plate, like a 10" with NO rim. You or your customers can create a "border" outside the circle by adding dots or stripes. In the heart you can add fingerprints or you can fill in with color. The date can be put on the back or on the front, bottom left. You can add child(ren) name(s) or omit screening the "with love" part.


Printed on 8 1/2" x 11" screen.
Ceramic projects: For best results mix paint and silkscreen medium until it reaches a pudding-like consistency to avoid bleeding. 
All projects: Use on surfaces like polymer clay, ceramic, pottery or bisque. Also great for fabric surfaces such as t-shirts, tote bags, canvas and wood signs.
***Copyright*** Not for commercial use. All images, designs, and text are copyrighted and cannot be copied, altered, or resold. For personal use only in a studio or at home.
Thank you for your order!
CCSA Members, be sure to use your benefits code if you are ordering 6 or more full sized screens!