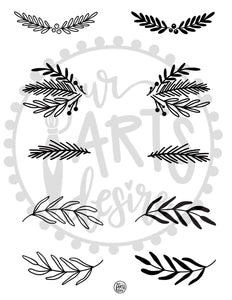 Add these to phrases, borders, or create a collage! Perfect for events when you need to add embellishments without having to hand draw!
Making your holidays EASY without having to write on every plate for your classes, events, etc. Perfect for your staff ... or let your customers add them to their pieces. 
OR MAKE A COLLAGE! 

Silkscreen with black and paint in your own color or silkscreen the "black" designs in different colors for a solid effect.
Printed on 8 1/2" x 11" screen.


Ceramic projects: For best results mix paint and silkscreen medium until it reaches a pudding-like consistency to avoid bleeding. 

All projects: Use on surfaces like polymer clay, ceramic, pottery or bisque. Also great for fabric surfaces such as t-shirts, tote bags, canvas and wood signs.



***Copyright*** Not for commercial use. All images, designs, and text are copyrighted and cannot be copied, altered, or resold. For personal use only in a studio or at home.

CCSA Members - be sure to use your benefits code if you are ordering 6 or more screens!
Thank you for your order!